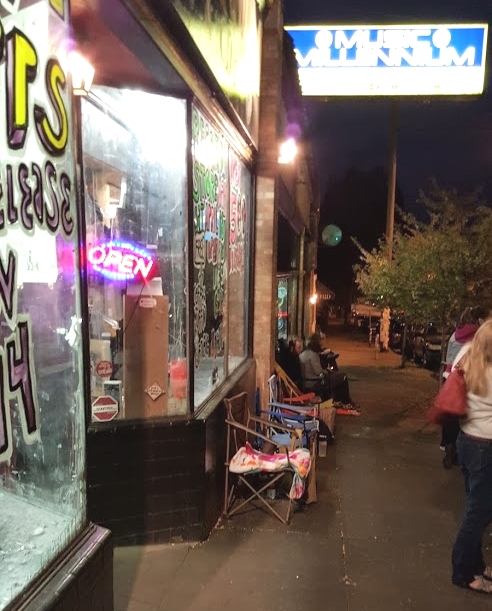 Music Millennium @ 8:48PM 4/17/2015.
Line starting 12+ hours before opening RSD 2015.
Tomorrow is Record Store Day 2015. As we've gotten closer to the annual event, there have been a million articles writing about why it totally sucks here, here, here, here, here, ETC. As I've shared in the past, I have been heading out to RSD every year since 2012 to show my support for local record shops (though besides one year I usually head in much later after the crowds have left). One lame thing is that for many, this is the only time they will visit a record shop (or even buy stuff on wax) each year. While it is a bummer, I had still been thinking that it is good that the record shops have a great sales day like this to make some money anyway. Along with this, there will hopefully be some who are introduced to the medium by these types of events and they may make more than one day of the year a "record store day".
While I'm still not sold on the idea that RSD is doing more harm than good for record stores themselves (smart stores know to avoid overstocking the garbage releases that won't move), the last few years it has become more clear that the event is doing some shitty things to the rest of the industry. If you buy records from indie labels these days for instance, you'll likely notice that vinyl versions are delayed months after the release of the album (it is even common for pre-orders to be delayed!) The demand from major labels repressing junk is making it so that pressing plants are at complete capacity, which is making it harder and more expensive for the smaller guys to put more quality stuff out. While it does sound like good news for the pressing plants too, it is going to hurt bad when the major labels run the "vinyl revival" into the ground through gimmicks and greed then leave the newly opened plants barely able to stay open yet again. At the end of the day, I suppose this is all really more the fault of the major labels perverting the good intentions that Record Store Day was founded on than RSD itself.
When I went to Music Millennium tonight, I was going there with the plan to pick some stuff up before all the craziness begins tomorrow. Most years I'm not picking up any RSD exclusives anyway, so I thought I might as well skip the actual day itself too since it has become somewhat meaningless to myself.
When I left the shop, I was surprised to see people lined up sitting in lawn chairs outside. At first I thought it was some weird group of nicely dressed homeless people (I don't drive into Portland often, it seemed possible!) but then I realized that these were instead people waiting in line 12+ hours before the store opens in the morning for RSD. I thought I was nuts to go to Easy Street Records a couple hours early a few years ago, I did not realize Record Store Day was now officially at Black Friday status of crazy lines. Checking out Millennium Music's website, the first person in line was there about 16 hours early!!! After reviewing the list of RSD 2015 exclusives, I can't think of anything there that's worth waiting in line that long. Guess so long as people are willing to buy from flippers, this will only continue to occur over the years. If an album meant so much to me that I'd either have to wait in line for 16 hours or pay $50 more, I can't say I blame those buying on eBay/Discogs though. Fortunately for me the quality of RSD releases has only been getting worse each year.
I think this is a going to be a start to a new Record Store Day tradition for myself. Visiting a record shop the evening before the event will be an interesting way to gauge whether the hype for RSD (and possibly the "vinyl revival") will continue to grow or start dying off. While it's great to see lots of interest for vinyl and record stores, here's to hoping people will start to ignore some of the major label crap that clogs things up so that the more grassroots nature of the day can be more relevant again.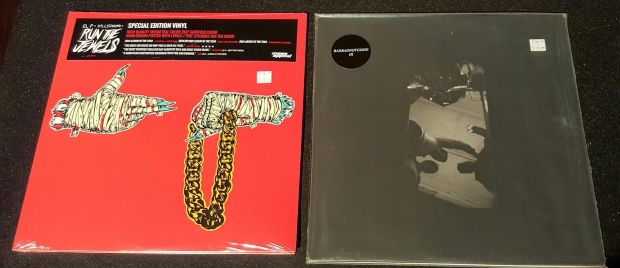 Run the Jewels 2 & BBNG III were better than any RSD 2015 exclusive in my opinion.