It's been awhile! I've come back to do another one of these hiatus posts unfortunately. I did one a few years back and I'm afraid it's time for me to say bye once again (for awhile anyway!). I don't get a huge amount of traffic here, but I have received some e-mails/tweets/etc from people so I thought it would be nice to let everyone know I'm going to be AFK for the time being.
As it's quite clear from my "latest posts", I have not been very active since getting my job at Discogs. I've been incredibly busy (but having an awesome time!) working with the great group of people at Discogs and by the end of the day I've found myself just wanting to make some food, watch Hulu/Netflix or listen to records, and fall asleep. I love music and I do enjoy writing about it, but it's been difficult for me to motivate myself enough to do this here on waxramble. As I've written a number of times in the past, one of my main motivations when there was a lot more activity here was just writing out of sheer boredom and depression dealing with unemployment/etc after college. When I have absolutely nothing to do I've always found myself trying to create things or projects so that I feel like I'm actually getting something done. It sucks because I've had a lot of fun doing stuff here and have enjoyed hearing from some awesome people who visited the site and shared their music with me. It's also such an amazing year for music (Freddie Gibbs/Madlib, Step Brothers, Blu, Dag Savage, etc etc etc) and I feel bad I haven't written about any of this. Ultimately the lack of motivation for writing here comes from a lot less free time.
This certainly isn't the end of waxramble, but I do think the site will become quite a bit different after I've decided to make a return. There will likely be less posts about news/new albums or mixes and probably more content that is personal which could include record pick ups (photos/video maybe?), visits to record shops, and at some point maybe some of my own music (I hope to buy some gear this summer). While the content/focus of the site may change, I do intend to keep all my previous work here as well (including all the download posts I know you all enjoy/come here for!). I'm thankful for any visitors I've received and for those of you who will continue to visit my site. I look forward to spending more time here in the future, whenever that may be.
Please feel free to follow my new personal Twitter account @clcnw and/or keep in touch by sending an e-mail to waxramble AT gmail . So long for now!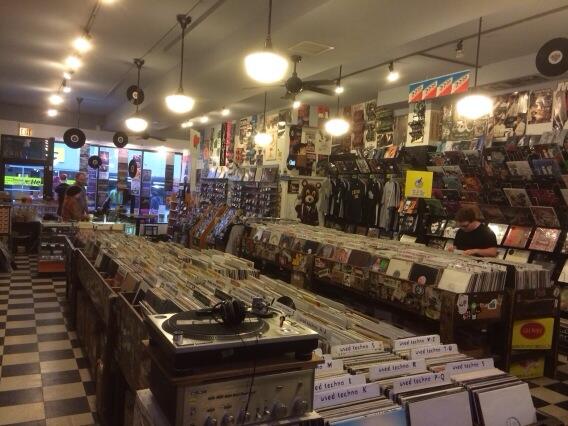 That's me digging at Gramaphone Records in Chicago earlier this month!