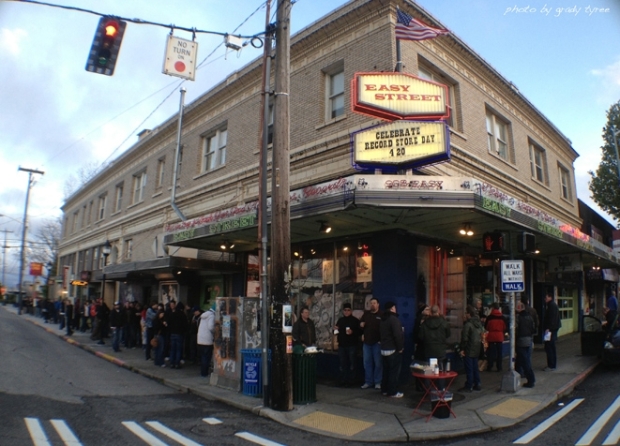 For this year's Record Store Day I decided I would get an early start over at Easy Street Records. This is the first time that I've done this, as in the past I have just come in at some point during the afternoon to pick up some random records. This time around I actually had my eye on some of the exclusives that were put out for the day including the 4LP Liquid Swords boxset which includes a full chess set, the colored vinyl reissue of Elephant, and the red colored reissue of Tame Impala's EP.
Easy Street is the first shop to open in Seattle at 7AM, so I decided to get there around 5AM to wait in line. I was actually a little surprised by the amount of those ahead of me at this point, I was maybe the 15th to 20th person in line. I brought along my tablet to watch Shaun of the Dead which helped during the wait, but I made the mistake of bringing my lighter jacket which left me a little cold while in line. As the store got closer to opening, employees began giving out free coffee and bacon which was pretty awesome.
Easy Street Records owner Matt giving out some delicious bacon. This pile was MUCH bigger when he came out, this was left for seconds.
The post over on the Easy Street Records blog describes what it was like as the doors opened at 7AM:
Right on time, at 7am sharp, we opened the café door and customers were let loose while the DJ appropriately played Jimi Hendrix wailing "The Star Spangled Banner" from Woodstock, as customers ran upstairs and around the corner to find their prized releases! We had the 7" singles downstairs, while all the 10" and 12" releases were spread out upstairs. Within minutes, the store was filled to the brim with close to 300 anxious audiophiles, all searching for releases…

The real pandemonium was upstairs as customers tried to maneuver through the tight aisles to get to the RSD section. I don't think I've ever seen Easy Street's vinyl section so packed – we had 2-3 people upstairs all day, helping customers locate specific titles. Downstairs was just as crazy, as the checkout line began to form. We had to snake customers up and down the aisles, all the way back to the stairs and eventually back up into the vinyl section.
It was quite the experience coming in. I've been to a few early morning Black Fridays, but this was probably the craziest shopping experience I've ever had I think. Fortunately I was one of the first people in line so I got enough time to grab everything I wanted, but the crowd in front and behind me at the 12″ selection upstairs was quite hectic. I made it to the checkout line in the perfect amount of time as I only had to wait about 10-15 minutes (if I had waited about 10 mins longer to head back downstairs I probably would have waited 30+ minutes). Below is a picture of what it was like upstairs: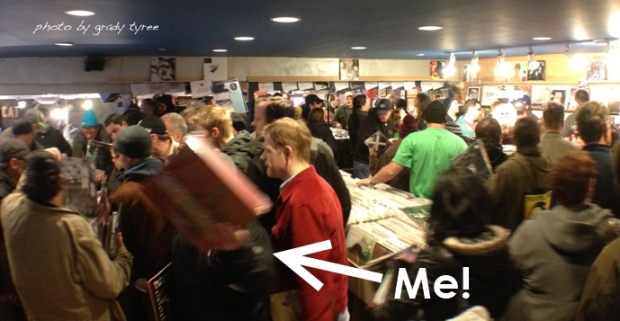 You can see me picking up the awesome GZA set before heading downstairs to pay for everything (the trip was spendy but worth it!). Overall I had a good amount of fun heading over for the opening of Record Store Day. Next year I might try checking out another store as the layout at Easy Street Records didn't make it too comfortable to shop given the at least 100-200 other people surrounding you while trying to grab your picks. With that said though, the employees were very nice and keeping everything running smoothly while I was there so props to them.
Below is what I ended up picking up for myself. I did get every record that I wanted for the day so I was pretty happy.

Previous Record Store Day Posts:
2012